Enhancing Connectivity: Exploring WiFi Routers and Top 5 Models to Consider
In our ever-connected world, WiFi routers play an instrumental role in shaping our digital experiences. These unassuming devices facilitate seamless communication, enabling us to access information, entertainment, and work-related tasks with ease. In this article, we'll delve into the significance of WiFi routers and introduce you to five exceptional models that stand out in today's crowded market.
The Heartbeat of Connectivity: WiFi Routers
At the core of our digital landscape, WiFi routers serve as the bridge that connects our devices to the vast expanse of the internet. From streaming our favorite movies to participating in virtual meetings, the role of these devices has become increasingly indispensable. Their significance lies in their ability to convert data signals into wireless waves that power our smartphones, laptops, smart TVs, and more. Beyond this basic functionality, WiFi routers offer a range of features that contribute to a seamless online experience:
Speed and Range: The latest wireless standards, such as WiFi 6 (802.11ax), ensure faster speeds and wider coverage. This translates to smoother browsing, lag-free gaming, and high-quality streaming across larger living spaces.
Multiple Bands: Many routers offer dual-band or tri-band capabilities. Dual-band routers, operating on both 2.4 GHz and 5 GHz frequencies, provide flexibility to accommodate a variety of devices. Tri-band routers take it a step further by adding an additional 5 GHz band, reducing congestion and enhancing performance in homes with multiple connected devices.
Security: In an era marked by cybersecurity concerns, routers have stepped up their game with advanced encryption protocols and security features. These measures protect your network from unauthorized access, safeguarding your personal information and devices from potential threats.
Smart Features: Some routers incorporate smart technology that adapts to your usage patterns. These adaptive routers optimize network performance for different tasks – whether you're streaming, gaming, or browsing.
Parental Controls: As family dynamics become increasingly digital, routers have embraced the need for family-friendly features. Parental controls allow you to manage internet access, set time limits, and even restrict content for specific users or devices.
The Heartbeat of Connectivity: WiFi Routers
Google Nest WiFi: With its unobtrusive design, this model blends effortlessly into any home. Offering strong coverage through mesh networking, it eradicates WiFi dead zones and ensures a reliable connection throughout your living space. Setup and management are a breeze with the Google Home app, making it user-friendly for all family members.
Nighthawk AX2400 Dual-Band: Geared towards the speed-hungry, this router boasts WiFi 6 technology for lightning-fast speeds and minimal latency. Its performance prowess is particularly suited for intense gaming and simultaneous streaming on multiple devices. With eight high-performance antennas, extended coverage is a given.
ASUS – RT-AX82U AX5400 Dual-Band: Boasting WiFi 6 technology, the ASUS RT-AX82U takes your home network to the next level. With dual-band capabilities, it provides impressive speed and performance. Adaptive QoS optimizes network traffic for smooth functioning during bandwidth-heavy tasks. Enhanced security features, powered by ASUS' collaboration with Trend Micro, keep your online experience safe.
TP-Link Archer C4000: For those seeking seamless performance across multiple devices, the TP-Link Archer C4000 fits the bill. Its tri-band setup, coupled with MU-MIMO support, ensures lag-free 4K streaming and online gaming. Security-conscious users will appreciate its comprehensive security features, including antivirus protection.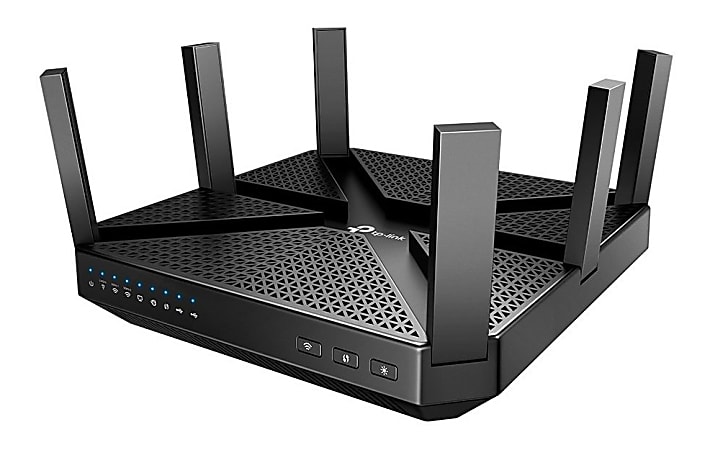 Linksys Velop AX4200: If comprehensive coverage is your priority, the Linksys Velop AX4200 has you covered. Operating as a tri-band mesh WiFi system, it blankets your entire home with a strong and stable connection. WiFi 6 technology keeps speeds high even when multiple devices are connected.
Choosing Your Perfect Router
When selecting a WiFi router, it's crucial to consider the specific needs of your household. Factors such as the size of your home, the number of devices, and the types of online activities you engage in all play a role. Prioritize features that align with your requirements, such as speed, range, security, and additional functionalities like smart technology or parental controls. With the right WiFi router in place, you can unlock the full potential of your digital experiences, ensuring a seamless and efficient online journey for every member of your household.